TOP ENGAGEMENT PHOTO SPOTS IN SOUTH FLORIDA
Recently engaged? If you're looking for the perfect spot to take engagement photos OR GET ELOPED, we've got you covered. HERE IS THE COMPLETE GUIDE TO SOME OF THE TOP LOCATIONS AND HIDDEN GEMS IN SOUTH FLORIDA!
5 CATEGORIES
BEACHES // PARKS // URBAN // HISTORIC // FARMLAND
There is no shortage of beautiful beaches to choose from. Tip: Best time to go is a weekday at sunrise. There is a smaller crowd, it's cooler and you will catch a breathtaking sunrise. Here are a few of our favorites.
SOUTH POINTE PARK, SOUTH BEACH - One of the most popular locations for any type of photo shoot for good reason. You have a picturesque park, pier, rocks and a vast beach dotted with colorful lifeguard stands.

HOLLYWOOD BEACH - A top destination for anyone. Very vintage feel on the broadwalk and quiet beach in the early morning. Great spot at Sunset because there are not too many tall buildings to block the sun.

SUNNY ISLES PIER - The beach is pretty crowded but if you don't mind, you'll get a beautiful view of the beach and buildings.

HALLANDALE BEACH - Our home beach is charming and beautiful. Lots of boutique hotels to use as backgrounds and quiet beach, especially at sunrise.

DANIA BEACH - Smaller beach with cute lifeguard stands and a pier.

BILL BAGGS STATE PARK - Cape Florida Lighthouse also knowns as El Farolito. Beautiful at sunrise or sunset. Beautiful beach grass and a beautiful lighthouse in the background.

HISTORIC VIRGINIA KEY BEACH- Located in Key Biscayne, it has a charming vintage carousel.

KEY BISCAYNE- Beautiful during the day and at night. During the day, you can catch the sunset and at night you have the background of the high rises in Brickell. You can also catch the sunrise or sunset depending on what side of the island your on.
South Florida is made up of so many unique neighborhoods and areas.
LAS OLAS WATERFRONT - This location has everything; historic buildings, waterfront and charming restaurants.

WYNWOOD - A popular location with some of the most insane street art which is also constantly changing.

CALLE OCHO (8TH STREET) / LITTLE HAVANA - One of the most vibrant locations in Miami with everything from live Cuban music to old Cuban men playing dominos at Domino Park.

LITTLE HAITI - Parks, artwork and culture.

DOWNTOWN HOLLYWOOD - A charming downtown district with bistro lights and murals.
If you are looking for classic portraits, consider a historic location.
BILTMORE HOTEL- A Miami icon. Every corner is filled with charm and vintage style.

DEL PRADO ENTRANCE- What we love most about this location, is that it's free to shoot there. No permit fee required.

VIZCAYA MUSEUM AND GARDENS - A former villa on the waterfront. Top 3 locations in South Florida. Note that there is a permit fee required.
South Florida farmlands provide dreamy sunsets and backdrops.
REDLANDS AND HOMESTEAD - Just drive around the Redlands and Homestead during golden hour and you will find so many locations for photos.

SUNSET GROVES - A mango and avocado grove turned into a venue. Stunning views from the tiki hut on stilts. https://www.instagram.com/sunsetgroves/

SAMSARA GARDENS - A Balinese inspired venue with a waterfall and gorgeous tropical foliage. https://www.samsaragardens.net/
PARKS + gardens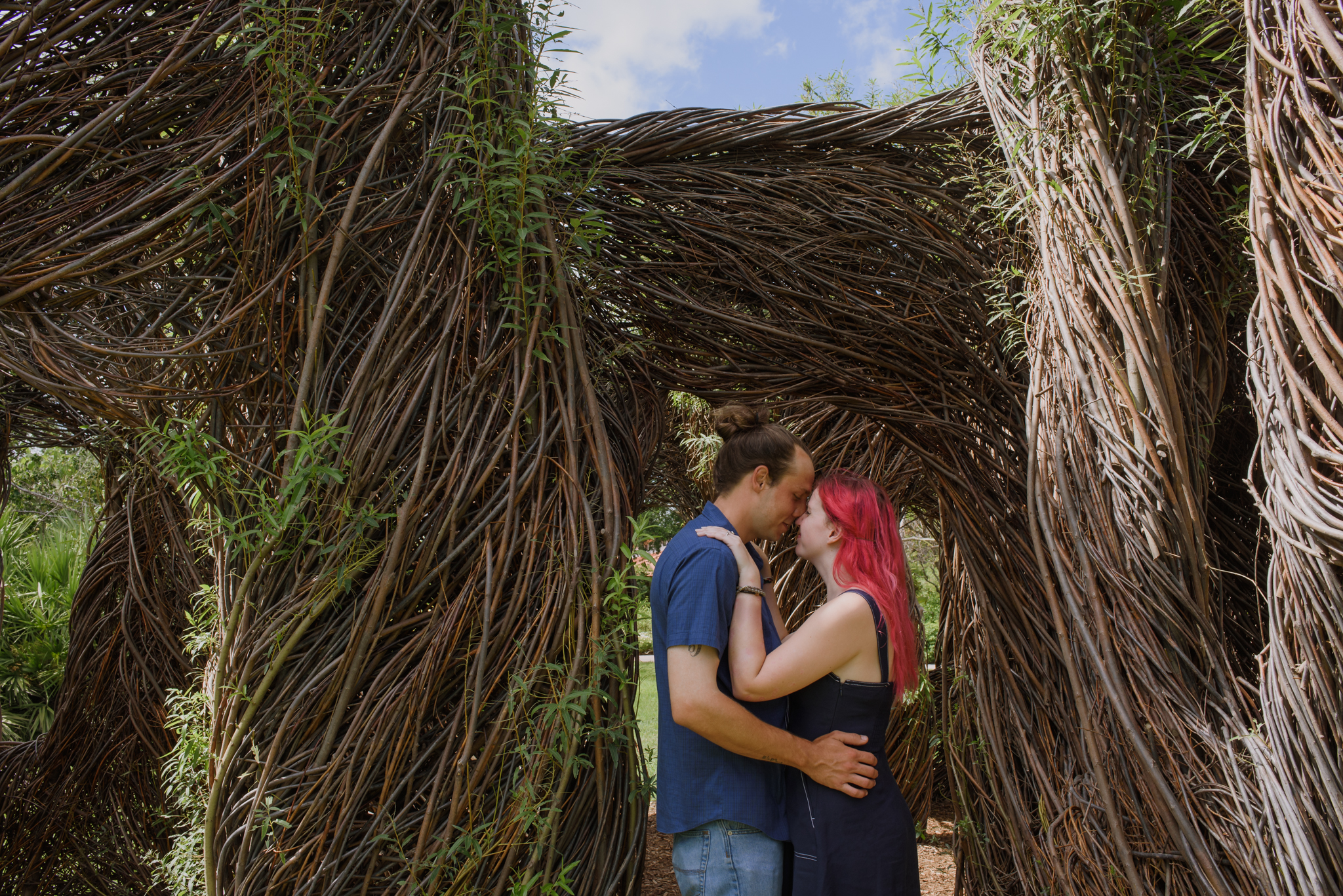 We have so many gorgeous parks to choose from. Many of them also have water features.
SOUTH POINTE PARK, SOUTH BEACH - If you would like a beachfront park, this location is for you. Its a two in one!

VIZCAYA MUSEUM AND GARDENS - Probably the most popular location for weddings and photographs in Miami. Every corner is picturesque.

TREE TOPS PARK - What we love about this park is that it is so large with so many nooks, including a boardwalk and horse stable.

MATHESON HAMMOCKS PARK - This is actually the park where we got married! There is a park with wonderful moss covered oak trees and further in you will find a bayfront lagoon.

GREYNOLDS PARK- This park has a hidden staircase, charming bridges and a stone fort.

ENCHANTED FOREST PARK - One of our favorite spots for beautiful light, vines and horse stables